In February, in spite of the balmy temperatures in Boston, Jerilyn Willig's Grade I class had caught Olympic fever. With the help of Bob Little, Park's Athletic Director, the first graders created a video of many of the sports featured in the Winter Olympics.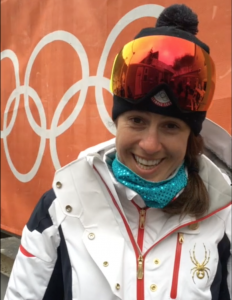 Flo Farrell, Park's social media coordinator, posted the video on Instagram and received a direct message (DM) from Lindsay Arnold '01 that read: "I am working at the Olympics for Team USA and the U.S. Ski Team. I graduated from Park in 2001!"
Lindsay wrote back immediately and in the conversation, she shared the following: "I am here for the whole time, until February 24. I am press officer for the Alpine Ski Team for U.S. Ski and Snowboard and a part of Team USA. Our organization has eight press officers here across snowboarding, freeskiing, freestyle, Nordic and ski jumping. My normal job is event logistics for our major domestic events."
Flo and Lindsay chatted for a bit and Flo asked if she would be willing to answer a few questions from Park. On the morning of February 8, we filmed Ms. Willig's class questions for Lindsay, which ran the gamut from: How's the food in South Korea? How much sleep do the athletes need? How many ski lifts are there on the mountain? Was this your classroom? Can you and the athletes hear the cheers of the crowd? Has anyone made S'mores in the cauldron?
So far, Lindsay, her colleagues, and several Olympians who have New England ties (Tricia Mangan from Hingham and Alice Merryweather, a biomedical engineering student at Dartmouth College) have answered five questions from our students. Maybe they will serve as an inspiration for future Olympians!