2019 Women's World Cup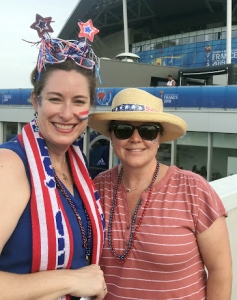 Merrill Hawkins (English Teacher) and Heather Offen (Science Teacher)
At the beginning of July, we had the opportunity of a lifetime. When we planned our trip back in November, we couldn't have known just what would be in store for us at the Women's World Cup in Lyon, France. Clearly we hoped to follow the US Women's team on their "Tour de Four" (the team's quest for a fourth US Women's World Cup victory), and we knew we would see some great soccer! As it turned out, we were able to attend both semi-final games, first between the USA and England and then the Netherlands and Sweden. The final game between the US and the Netherlands, in the sold-out Lyon Olympic Stadium, was electric! We had no idea we would witness such an important moment in women's sports history. Lucky us!  
Reaching for the Stars In Hong Kong
Kim Fogarty (Academic Technology Specialist/Lead Makerspace Educator)
In August, I traveled to Hong Kong to work at Inspire, an eight-day program designed to provide a "simulation" of the boarding school experience for students aged 8-11. ARCH Education, an educational consulting firm for Hong Kong students interested in studying in America or the UK, hired me along with another American and two British educators to teach science, technology, history, and English.  
In my technology class, I introduced students to Arduino programming and collaborated frequently with my former colleague who was teaching science. She and I connected our two subjects as we played off the camp's theme: Reach for the Stars. Our integrated hands-on learning and project work was quite novel for the teachers from the UK and Hong Kong.  Our finale – the Space Museum – was a big hit for the students, parents, and camp organizers.  
This, my first trip to Asia, was brief but inspiring, and most certainly will not not be the last.  I enjoyed experiencing Hong Kong's culture, food, and people, and have begun to study Mandarin. Next time, I look forward to seeing more of China. The program was a lot of work, before, during and afterwards; but it was a wonderful, enriching experience that has helped reshape my understanding of the world.  
Camp Fatima of New Jersey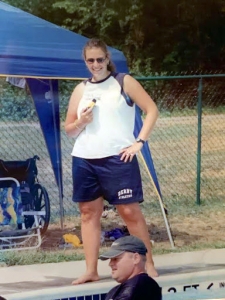 Michelle Young (PE Department Head)
I brought my whole family – including my two sons, Tobey (6) and Grady (4), and my mom (ageless!) – to volunteer at Camp Fatima of New Jersey. For each of the past 19 summers, I've spent two weeks at Camp Fatima, which is an all-volunteer organization that provides a free summer camp experience to individuals from school age through adulthood with developmental disabilities. By providing safe, nurturing and high-quality programming to the campers, we also provide a needed respite to their caregivers. And we all have a lot of fun!
My first year I was a lifeguard during the day and held campouts at night. Since then, I've been the director of the waterfront, run the Arts and Crafts and Sense Room, and been a regular counselor. Most recently, I've been part of the Family Program staff so that my whole family could volunteer as well. The camp is run completely by more than 300 volunteers who serve over 100 children and 60 adults every year.
Camp Fatima is truly a magical place, where everyone has the right, and the ability to experience play in his or her life. We call this Fatimagic. I'm already looking forward to next summer!