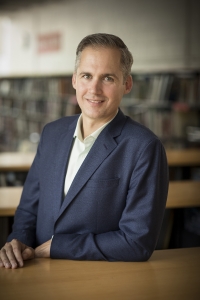 A Perfect Storm
The spring of 2020 will be remembered for a perfect storm of a health crisis, a financial crisis, and a crisis of identity and justice. In 20 years, we will all remember where we were, who we were with, who we couldn't be with, and what we could do, and what we couldn't. For me, I will remember it as a time when our community showed its strength and proved that Park is more than a place.
Initially, our understanding of the COVID-19 virus meant canceling international and domestic student travel – first China, then Europe, then Washington, DC, and then the elective summer trips to Costa Rica and the Grand Canyon. In retrospect, these were the easiest of the decisions we would make related to COVID-19, and still at the time, canceling much anticipated student travel was difficult.
Concern and clarity arrived with news of the Boston BioGen conference and the first COVID-19 cases in Boston, we prioritized health and safety, and closed the campus on Thursday, March 12, sending students home for spring break with 10 days of school work for a "just in case" scenario. Almost immediately we knew the school closure would last longer than originally planned, and over the break, the admin team dove into planning our approach to distance learning.
Embracing Distance Learning
On Thursday, April 2, we launched PARK+: Our Online Journey. Our approach to distance learning was guided by our dedication to educational excellence, our pursuit of each child's greatest potential, and our equitable and inclusive support of our whole community. Structurally, we chose to balance asynchronous and synchronous teaching and learning based on research and experience that a blended approach is the most student-centric and effective means to further learning in a distance setting. 
Once launched, PARK+ evolved through teacher-directed innovation and learning, and then in mid-April, we collected feedback from faculty, families, and students in Grades 5–8 before launching the second-phase of PARK+ which sustained us through the end of the year.
During the time of COVID-19, Park's teachers have become masters of new tools, have grown as collaborative teams, and have shifted teaching and learning at Park in creative and permanent ways. Across the school, there are brilliant examples of asynchronous instruction at every grade-level from early childhood literacy lessons to guided mindfulness meditations to first-rate video math instruction. In this issue of the Park Parent, you'll read how Kyra Fries reinvented a traditional Shakespearean play into an amazing virtual capstone experience for our eighth-grade actors and how our after-school enrichment program shifted to a distance format confirming that the boundaries of Park are limitless.
Cultivating Authentic Connection
Although academic excellence is a cornerstone of the Park mission, what continues to make Park Park is the myriad ways in which our vibrant, connected, and diverse community comes together in times of celebration and sorrow.
When news of the coronavirus's spread in China became a global concern, Park students responded as compassionate collaborators and creative problem solvers. Our Asian Student Affinity Alliance began a medical supply drive for our partner school in Hangzhou, sending a box full of N95 masks, gloves, touch-free thermometers, and safety goggles, with videos, notes, and artwork from our students. Our friends at the Greentown Yuhua QinQuin School expressed their disappointment in not being able to send exchange students to Park because of the pandemic, and their encouragement that the children at both schools had strengthened their friendship and taken responsibility as global citizens. 
The Parents' Association led the charge in uniting our community and introducing new traditions to many of our time-honored spring festivities that brought faculty, staff, students, and families together in ways big and small. We wore our white and green to celebrate Spirit Day on May 8, and joined together on social media to complete Instagram challenges and show teacher appreciation. From a virtual live BINGO night and a week-long kindness BINGO challenge, to a special Springfest weekend in May – complete with a scavenger hunt and family activities – our community came together in creative ways. Additionally, we hosted our first-ever Giving Day, which focused on participation and support of the whole Park community, raising $300,171 from more than 400 donors – a tremendous success across all metrics of measurement.
Responding to Racism
As news broke of the killings of George Floyd, Ahmaud Arbery, Tony McDade, Breonna Taylor, and David McAtee, the Park community made time to come together through a series of community events to grieve, to learn, to engage, and to work to create change. A forum for parents of African-American and Black children, a student, faculty, and staff vigil, affinity spaces for African-American and Black students, a white justice seekers space for faculty and staff, and open forums for all parents were just a few of the events held during the week of June 1. Though we were physically distant, we were not apart. 
Moving forward, Park will redouble our efforts to deliver an equitable and inclusive experience for every single student and member of our faculty and staff. We are making sure that our work going forward doesn't end with the current news cycle, recognizing that this renewed focus is only the beginning of the journey ahead of us. The strength of our community confirms that we are ready and willing to do the work that is required to build a school that propels Park's students into a life that is better than the one we, as adults, have lived.
This Park Parent focuses on the ways our community answered, responded, and joined together in the spring of 2020. Regardless of distance, we've learned that much is possible when we come together as a community in terms of furthering academic growth, fostering genuine connection, and igniting change. Until we meet again in person, we hope you enjoy this edition of the Park Parent.