Suzy Akin (Director of Strategic Marketing & Communications)
Suzy Akin joined Park this summer as Director of Strategic Marketing & Communications. Suzy comes to us from Hackley School in Tarrytown, NY, where as director of communications she built and continually evolved a digital and print communications program to support all areas of Hackley's K-12 community. During her tenure at Hackley, she also taught English at the Upper School level (grades 11 and 12) and served as advisor to the school's award-winning literary and art magazine. Prior to Hackley, she worked in marketing and communications as part of the Ralph Lauren organization in New York City. A graduate of Williams College, Suzy majored in English, and later earned her MA at the Bread Loaf School of English at Middlebury College. She has also served as Head Agent for her Williams College class, as co-chair of the alumni committee that oversees the Williams Alumni Fund, and is currently co-president of her class.
Having loved helping one school build its community over time, Suzy is excited to join Park and to discover and share the narrative that makes Park so special. After spending her entire life in the Hudson River Valley, she's glad to join her partner in the Boston area after nearly 14 years of dealing with Hartford traffic on Friday evenings. She is enjoying getting to know the area, loves walking along the Charles and discovering local farmers markets, and looks forward to sharing her new community with her two grown sons when they come visit.     
Shakera Bramwell (Administrative Assistant to the Division Heads)
Shakera is excited to be joining the Park community and is very curious about all that goes into making an institution run smoothly. She immigrated to the United States at age eleven from Kingston, Jamaica. Shakera earned a BA in English literature from the University of Massachusetts, Boston with a minor in computer science. In her leisure time, Shakera enjoys biking, writing (poetry, or working on her novel), and working as a board member of Rebel Cause Inc, a nonprofit that advocates for marginalized youth of color –  many of whom are queer, undocumented, experiencing homelessness, and are formerly or currently incarcerated. Shakera's pronouns are she/her, they/them.
Charlotte Croft (Grade 2 Teacher)
Charlotte earned her BA with a major in sociology and a minor in education from Trinity University in San Antonio. When she was eager for her own classroom, she taught in a preschool program for a few years while successfully completing her master's in education from Trinity University. For the past 20 years, Charlotte has been working in a Maryland public school system – teaching second grade for seven of those years near the Maryland/Washington, DC border. Charlotte is passionate about celebrating curiosity among diverse voices and hopes to lend her voracious positivity and flexibility to the school community.
Emily Denault  (Grade 1 Teacher)
Katharine (Emily) Denault joins Park's Grade 1 team, bringing experience teaching students in Kindergarten–Grade 3. Most recently, Emily taught Grades 1-3 at the Inly School, where her classroom dance parties and creative read-alouds were legendary. Emily is also passionate about incorporating anti-bias pedagogy into her work by focusing on identity, diversity, justice, and activism. Emily holds a BA in elementary education from Roger Williams University and a master's in education from University College Dublin where she focused on "Children's Rights and Voices in School Systems." Emily is excited to continue learning and growing with the Park community!
Lauren Dennis (Grade 7 English Teacher)
Lauren is thrilled to return to the Park community and the fourth floor as a Grade 7 English teacher. In 2018-19, she served as a Park School Apprentice in the Upper Division, and then taught writing, literature, and life skills at a Montessori school in Scituate. She graduated from Wellesley College with a BA in American Studies and English. Lauren spends her summers as the assistant director of Friends Camp, a Quaker overnight camp in South China, Maine. She can't wait to dive into the school year with Park's creative students and faculty who love to learn together! 
Naomi Joseph (Grade 2 Teacher)
Naomi is ecstatic to continue her teaching journey as a Grade 2 educator at The Park School. She is dedicated to creating a joyful environment that fosters a true love of learning in her students. Naomi received her BA in psychology from Rutgers University and her ME. from Emmanuel College,  where her passion for student growth flourished. She has spent the past four years creating a rich, diverse classroom atmosphere where all her students can feel respected and cherished. Spending three of those four years teaching grade 3 in New Jersey and Massachusetts, Naomi brings strong background knowledge in what her second graders  need in order to thrive academically and emotionally within the classroom. She is thrilled to join the Grade 2 team and to experience all that Park has to offer!
Esteban Juarez
(English & Social Studies Teacher)
Esteban Juarez, a native of Houston, TX, is excited to join The Park School as an English and Social Studies Teacher for the eighth grade. Esteban earned a BA in philosophy from Loyola University Chicago and a MA in philosophy from The University of Geneva in Switzerland. His philosophy studies focused on issues in ethics, epistemology, and social justice. As a traveler of the world and fluent French speaker, Esteban is passionate about exploring different cultures and traditions. Prior to Park, he worked as an eighth grade English teacher at The Windward School in White Plains, NY. Esteban has vast experience with all types of learners and grew skilled in utilizing Orton-Gillingham strategies to teach students with language-based learning disabilities while at Windward. Esteban is an avid cyclist, espresso aficionado, and lover of opera. He looks forward to exploring the Boston area with his husband, Carlos, and their cockapoo, Lila.

Sophie Moss '09 (ASP Teacher Grades 3-8)
After graduating from Hampshire College in 2016 with a BA in 'Arts Integration into Education,' Sophie served two years as an Americorps member with City Year Boston; first in a fourth grade classroom in East Boston and then as a team leader in two eighth grade classrooms in a Dorchester middle school. While at City Year, Sophie and her team helped design and run two after-school programs for students ranging Grades 3-5 and 6-8. In 2018, she spent a year in Oakland, CA, working as a small group math teacher providing individualized, hands-on math tutoring to students in Grades 6-8. Last year she taught students ages 8-15 how to make original films at a film school in Brooklyn. Sophie has a passion for igniting the flame of creativity within each of her students and she loves to express her own passions through her photography and expressive storytelling. As a graduate of Park School's Grade IX Class of 2009, Sophie is thrilled to return to The Park School community once again, this time with a new perspective. 
Kathrin Petzold (School Nurse)
With the School's need for an expanded Health Services Office this year, Kathrin joins the Park community as a school nurse who will be "on call" until 6 p.m. every day. After starting her career with Teach For America as a second grade teacher, Kathrin switched paths and graduated with her nursing degree from Columbia University 11 years ago. Since then, she worked at the bedside and volunteered abroad with Doctors Without Borders, spending the past five years as a nurse at Milton Academy. In May, she was thrilled to complete her master's degree in nursing, with a focus on family health, at UMASS Boston, and is very excited to continue working in school health at Park. When not busy running after her two little boys, Kathrin loves to hike the Blue Hills, play cards, and spend time mastering DIY home projects!
Keisha Jones Riley (Kindergarten Teacher)
A dedicated teacher who thrives on seeing young children grow and develop as they connect with their environment and develop a strong sense of self, Keisha is elated to become a part of The Park School community and bring her 20+ years in education to the Kindergarten classroom. Keisha studied Human Development and Early Childhood Education at Lesley University and has recently returned to begin a graduate program in Early Childhood Education (Pre-Kindergarten to Grade 2). Most recently, Keisha was teaching PreK at The Advent School. Through her work with organizations like SEED (Seeking Educational Equity and Diversity) and POCISNE (People of Color in Independent Schools in New England), Keisha has furthered her passion for helping students develop a sense of social justice. When she's not in the classroom, Keisha, who's an avid sports fan, might be on the links pursuing her newest sport: golf. She also enjoys baking, reading, and gardening, and spending time with family and friends.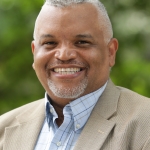 Ken Rogers (Upper Division Head)
Ken brings a deep understanding and affection for adolescents to Park's Upper Division. For the past six years, he served as middle school principal at Charlotte Christian School in North Carolina, and previously was the head of middle school at Germantown Academy (Pennsylvania), middle school division head at The Wellington School (Ohio), and middle school dean of students at Friends School of Baltimore. Ken is an accomplished speaker and presenter and has worked with schools and associations across the country. He holds a master's in clinical community counseling from Johns Hopkins University, and a BA in English from Berea College.
Throughout his career, Ken has become increasingly interested in the unique role that PreK to Grade 8 schools play and is pleased to join this community, noting that Park's mission and focus on academic excellence, social-emotional learning, and a commitment to diversity, equity, and inclusion precisely align with his own concerns. This summer, Ken and his wife, Sandra, transitioned from North Carolina to Massachusetts with their 14-year-old daughter, Sierra.
Courtney Stanley (Kindergarten Assistant Teacher/After-School Program Teacher)
Having worked as a counselor at Summer at Park in 2019, Courtney is ecstatic to officially join The Park School faculty this fall! In 2016, Courtney earned her bachelor's degree in sociology from the University of Vermont, where she focused on race, class, gender, and sexuality. Her college studies have developed into a passion for education equity that fosters diversity, inclusion, and activism initiatives. Courtney worked at City Year Boston and taught at the Manville School, a therapeutic school for students with intense socio-emotional and behavioral needs. For the last two years, she has worked with special education students in the Brookline Public Schools. Courtney is a huge Pokemon fan, absolutely adores food, and enjoys spending time with her cat, Rascal.
Ellinor Wareham
(Math Specialist for Grades 3 & 4)
Ellinor is thrilled to be joining the talented faculty at Park as a Lower Division Math Specialist. For the past nine years, Ellinor was the lower school math specialist (PK-5) and middle school math teacher at Brimmer and May. Prior to working at Brimmer, she was a math specialist/learning specialist at the Tower School in Marblehead, and a high school math teacher at the Landmark School in Beverly. She was a mathematics minor at Bowdoin College and earned a MEd from Simmons College. Ellinor is excited to push forward with the School's vision of creating a nurturing and inclusive environment for all students. She is passionate about using an array of techniques that allow students of diverse backgrounds to shine, including using project-based learning to promote a deep understanding of the concepts. In her free time, she enjoys traveling, horseback riding, and completing KenKen puzzles.
Stephanie Waterman
(World Languages Teacher Grades 5-8)
Steph is excited to join the World Languages Department and share her love of French with Park students. A graduate of the College of Charleston with a BA in Communication & Media Studies and French & Francophone Studies, Steph studied French at the Sorbonne in Paris and earned an MA from the Middlebury Language Schools in 2017. While completing an MS in Education from the University of Pennsylvania (Day School Teaching Residency Program), Stephanie taught French to middle and high school students at North Shore Country Day in Winnetka, IL. She looks forward to being back on the East Coast, much closer to her hometown of Jamestown, RI, and to exploring Boston's art and architecture. 
"Old" Friends in New Roles
Giovanni Bradley-Campbell
(Grade Level Assistant – Grade 2, Permanent Substitute, ASP)
Giovanni will be taking on the role of permanent substitute for the year and will serve as the Grade 2 Assistant for the first half of the year, while Sarah Smith is covering for Liz Miller. For nearly 20 years and in many roles, Giovanni has been a member of the Park School community: Summer at Park counselor, After-School Program Teacher, and Pre-K Assistant. During his Teaching Apprenticeship, Giovanni enjoyed spending half the year with the Art Department and the other in Grade 2, and is excited to be part of the second grade team again.
Theresa Coffeen (Grade 5 Humanities)
This fall, as Grade 5 becomes part of the Upper Division, Theresa will be welcoming new fifth graders as a Humanities Teacher. Theresa, who has been an essential part of the Grade 5 team since 2017, served as the Grade 5 Teaching Assistant and coach for the Grade 4 and 5 field hockey, basketball, and lacrosse teams, and has worked with campers at Summer at Park. She holds a BA from Roanoke College and an MEd from Lesley University and has nearly 20 years of experience working closely with children ages 3-14.
Kathy Come (Co-Department Head, World Languages)
As she begins her tenth year at Park, Kathy is excited to be leading the World Language Department with her colleague, Liz McColloch. Together, they will welcome fifth and sixth graders as new Upper Division language students this fall. Kathy, who lived in Madrid while completing her master's in Spanish language and translation at NYU, enjoys sharing her love for Spanish language and culture with her students in the classroom. She has also led dozens of eighth and ninth graders on eight international trips to Spain and Costa Rica.
Jay Duhaime (Grade 5 Math Teacher)
With Grade 5 joining the Upper Division this year, fifth grade math will be taught using a different model. Jay will be teaching math to all four sections of Grade 5 rather than having homeroom teachers lead math instruction as in the Lower Division. Jay, who has been teaching Grade 5 at Park since 2017, is thrilled to be piloting this new approach to Grade 5 math in this inaugural year. Before joining the Park community, Jay (BS University of Maine, Orono, MEd Cambridge College) worked with at-risk students in Boston and Cambridge for eight years, where he honed his skills in targeted, differentiated instruction and his enthusiasm for 10- and 11-year-old learners.
Kyra Fries (Drama Department Head)
This fall, the curtains are going up on a new set of drama classes for Grades 6-8. After teaching English and directing the after-school drama program for 19 years, Kyra Fries is thrilled to be launching a new and creative venture. In Park's new electives curriculum, Kyra will be sharing activities, scripts, projects, and experiences with every sixth, seventh, and eighth grader in their trimester-long drama class. She will also continue to direct the after-school productions, which will be virtual endeavors during the 2020-21 year.
Amanda Goodman (Grade 1 Assistant Teacher)
Amanda will be working with Jerilyn Willig's first grade class as a dedicated teaching assistant this year. Amanda has 15 years of experience in early education and, since 2018, has served as a Kindergarten Assistant at Park. Amanda is excited to be moving into this full-time support role and will bring her love of learning and collaboration to Grade 1.
Maria Griffiths (Kindergarten Assistant Teacher)
This year, Maria returns to Park following the birth of her daughter, Angelina, last October. Maria will be working with Leah Walters as an assistant teacher, as well as supporting the whole Kindergarten team. Maria first joined the Park faculty in 2017 as the Grade 4 Assistant and ASP teacher. She earned a master's in Early Childhood Education from the American International College and will be fulfilling her final requirement for state licensure in an early childhood classroom while working with Park's Kindergarteners this fall. 
Will Lyons (PreK Assistant Teacher)
Will Lyons has been a member of the Park faculty for four years, and this fall he will be moving from his role as a Kindergarten Assistant to a Pre-K Assistant. He will also be adjusting his position at the After-School Program to work with students in Grades PreK-Grade 2. Will is passionate about teaching through play, and is excited to be joining Park's amazing PreK team! In 2016, Will graduated from Worcester State University with a BS in business administration, and is currently working towards his master's degree in early childhood education at Cambridge College. 
Amanda Maffei (Music Teacher)
Amanda will be teaching general music classes to Grades 2 and 4 in addition to conducting string ensembles for Grades 4-7, assisting the Grade 8 instrumental ensemble, and accompanying multiple grade levels. Last fall, Amanda seamlessly stepped into Park's Music Department while Janice Allen was out on medical leave and continued assisting Janice in the classroom and remotely throughout the year. Amanda earned her Bachelor of Music degree from the University of Massachusetts, an MEd from Boston College and a Dalcroze Certificate from the Longy School of Music. An experienced, multi-talented musician and teaching professional, Amanda is excited to be a part of the Park community where she will help develop her students' aptitudes and skills for creating, understanding, and appreciating music in their lives and in the lives of their communities and world. 
Danielle Makrauer (Permanent Substitute)
Last year, Danielle taught English to Upper Division students having taught for six years at Lawrence Academy in Groton. Since 2013, Danielle (BA Georgetown University, MFA Emerson College) has been a learning specialist and writing instructor for the Prep Now tutoring service. She is excited to serve as a substitute teacher this year and having the opportunity to work with a variety of students at Park.
Karen Manning (Grade 8 Science and Academic Technology Support)
During the 2020-21 year, Karen, who first joined the Park faculty in 2000, will be teaching two sections of eighth grade science every day – one in person and one virtual. When she's not in the West Building Science Lab, Karen will be available to help her colleagues navigate SeeSaw, Zoom, and other educational technology.  
Liz McColloch (Co-Department Head, World Languages)
Liz brings her commitment to both global and experiential education in teaming up with Kathy Come to co-lead the World Language Department. With the addition of Grade 5, they are excited to build a performance-based curriculum for Park's Upper Division. Before joining the Park faculty in 2019, Liz taught French at St. Mark's School, where she also founded a two-week experiential education program and co-chaired a partnership with a Haitian school.
Isa Moss '09 (Grade Level Assistant, Grade 4)
While Isa has worn many hats at Park in the two years, she particularly enjoyed working with the fourth grade team and is excited to continue to collaborate as the Grade 4 Assistant. Isa's love for the arts will not only play a role in the classroom but also after school in the Upper Division drama productions. Before Park, Isa spent two years as an Americorps member with City Year Boston, where she served in a Boston Public school assisting students in grades 3-5 with academics, social-emotional learning strategies, and increasing the school's overall attendance. 
Pamela Penna (Director of Instructional Practice)
Pamela joined the community in 2012 as a faculty coach and in 2015, she became Park's Director of Curriculum & Instruction. This year, she will resume her role of partnering with faculty and the leadership team in support of student-centered instruction and assessment as the Director of Instructional Practice, having spent 2019-20 in an interim role as the Director of Apprentices.
Mari Powell (Library Administrative Assistant)
Mari, who joined the Park community last year as a receptionist, is bringing her warmth, smarts, and mad organizational skills one and a half floors up to the Library. With independent school experience as a student, parent, and employee, she has worked in different capacities at Cate School, Brooks School, and Phillips Academy. In her free time, Mari, who attended Boston University, enjoys knitting, baking, and watching the "Great British Baking Show."
Alli Raabe (Literacy Specialist & Coach)
Alli Raabe, a Grade 1 teacher at Park since 2010, is thrilled to have the opportunity to step into the role of Literacy Specialist and Coach for PreK–Grade 4 while Katie Carr is on parental leave this year. Before coming to Park, Alli taught first grade in Darien, CT for five years. She earned her BA in English from Providence College and an MEd in education and child study from Smith College. Having completed Orton-Gillingham coursework last summer, Alli recently began the practicum (100 tutoring sessions) to earn her Associate Level Orton-Gillingham certification. Passionate about literacy teaching and learning, Alli is excited to support Park's talented teachers and eager young learners.
Jill Studnicki (Permanent Substitute)
Prior to joining Park's Upper Division last year as a social studies teacher, Jill taught at independent schools in Denver and New Jersey. She brings considerable experience as a personal development coach for adolescents, teens, and adults, and is eager to immerse herself in the Park community. She attended Duquesne University (BA History) and received a master's degree from The College of New Jersey. Jill is excited to continue on at Park as a substitute teacher this year. 
Sarah Smith (Grade 2 Teacher – Maternity Leave Coverage)
For the past two years, Sarah Smith has served as the Grade 2 Teaching Assistant, and she is thrilled to have this opportunity to step into the role of lead teacher while Liz Miller is on parental leave. Sarah studied sociology and Spanish at Amherst College, where she spent every free moment volunteering in elementary school classrooms. Before joining the Park community, she spent a year as a teaching intern at The Learning Project Elementary School in Back Bay. Sarah is passionate about collaborative teaching, incorporating arts and technology into the classroom, and nurturing a community of empathetic global citizens. Outside of Park, she is also a workshop instructor and the Director of Summer Day Programming at Arlington Children's Theatre. Sarah is excited to connect with the incoming second grade class, and to continue to learn and grow with the phenomenal Grade 2 team. 
Friends with New Titles
Rahimah Ahmad, RN (Director of Health Services)
Rahimah joined the Park community last year and has graciously stepped into her new, expanded role as the Director of Health Services. Rahimah brings a rich and diverse nursing background that includes work in schools, camps, hospitals, and the private sector. She earned a BSN from Northeastern University and is particularly interested in clinical leadership and contributing to broader wellness work at Park. In addition to health and wellness, Rahimah loves creative writing, film, and yoga.
Sarah Carter (Director of Human Resources)
Since March 2019, Sarah has been providing support for faculty and staff in all aspects of their employment: recruitment, hiring, on-boarding and orientation, ongoing coaching and HR consultation, as well as exit support. Sarah comes to Park from Southern New Hampshire University (SNHU) where she served as assistant director of faculty talent acquisition for the past year. Prior to SNHU, Sarah was the assistant director of human resources and diversity at Housatonic Community College in Hartford, CT. Sarah earned her BS in business administration with a concentration in HR from Meredith College in Raleigh, NC and a master's degree in law with a concentration in HR from Wake Forest University. 
Caitlin Robinson (Director of Enrichment and ASP Grades 3–8)
A Park alumna, Caitlin worked in ASP and as an assistant in Grade 5 during the 2012-13 school year. After teaching kindergarten at The Evergreen School in Seattle, she returned to Park to sub in nearly every grade level in spring 2018. In 2019-20, Caitlin launched the new Enrichment Program for students in Grades 3-5, and took on the role of Director of Enrichment & ASP Programming (Grades 3–8). This year, Caitlin will continue to expand programming as Director of Enrichment and ASP Grades 3-8. Caitlin received her MFA in Creative Writing at Lesley University and is currently pursuing a MA in English from the Bread Loaf School of English. She spends her mornings writing poetry, picture books, fiction and nonfiction. She likes to be outside as much as possible, and play and write music, especially with family and friends. She lives in Dedham with her husband and cat.
Nick Sama (Director of Summer at Park)
Born and raised in southern Maine, Nick headed to the Boston area for college. After graduating from Worcester Worcester Polytechnic Institute (WPI), he began a career as a geotechnical engineer. Looking for a change, he gave up engineering and moved to Boise, Idaho in 2015, but realized that New England was home. Upon returning, he began a new chapter as the Coordinator of Summer at Park in March 2017. Together with Mary Russell, Nick helped grow the program and upon her retirement this summer, he assumed the reins of the program becoming Director of Summer at Park. In his free time, Nick is an avid golfer, beginner fisherman, and serves as the Head Coach of the Brookline High School Girls Hockey Program. Nick got married in April, and he and his wife Kate currently live in Cambridge.