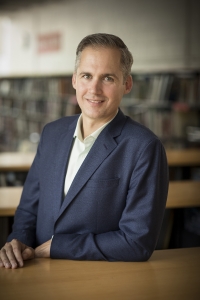 In these days leading up to Park's winter break, I find myself reflecting upon the merry tropes of the winter holiday season. As Head of School, I feel charged with the responsibility to steward all that hope, all those large aspirations, and all of the good cheer forward into the New Year. 
And, at the same time, I'm conscious of all the loss being experienced during the COVID pandemic — the personal and the collective loss in our community. The loss of certainty, safety, confidence, and the more pointed forms of loss we endure as people and families. It's important we acknowledge the loss.
As a school community, we have lost our Yule Festival — a beloved Park tradition that brings the entire community together in appreciation of the traditions and celebrations we share with one another and the opportunity to witness the shared work of faculty and students. We have lost the benefit of being together — fully — before going our separate ways.
And yet, there continue to be silver linings and real moments of joy that we witness each day and for which we can be thankful. As we head off to winter break, I want to celebrate those moments I've witnessed this year that bring me hope and appreciation for what makes Park Park.
I want to celebrate those moments I've witnessed this year that bring me hope and appreciation for what makes Park Park.
I've heard from Park's Fourth Grade Empathy Task Force who proposed a slate of safe and celebratory projects and treats to allow our children the requisite moments to joy. 
I've witnessed 293 students from Kindergarten to Grade 4 singing "Happy Birthday" to a fellow student at carpool.
I've been told of families who, instead of the usual gifts, are journaling for their friends and family about the discoveries that make them grateful this year.
I've heard of collective family menorah lighting gatherings each night of Hanukkah on Zoom — something they never considered doing before. 
I've watched socially distanced second graders overwhelmed with playfulness dueling with pool noodles in the front circle.
I've spoken with parents who have, despite the restrictions of our current lives, realized that in some ways, all this is teaching their children to be more resourceful, more independent, more creative in finding ways to entertain themselves, and more ready to help out around the house. 
We can become so fixated on elements of tradition, and on rising to escalating expectations. How can we make this the best holiday season and winter break ever? We all have our agendas and desires. And there are elements of our collective experience that we can't entirely control. But what if we strip off the layers of expectations and simply listen, learn, and appreciate?
Park's motto is "Simplicity and Sincerity." I think that's a good message to take us forward in the current moment. Are we perfect? No. Are we working hard? Oh, my … yes. Are we hoping and working to maximize the potential of our community's collective experience? Yes. Can we make it all alright, immediately? No. And with a measure of grace, we can decide to prioritize our collaboration in the ongoing effort of making Park the best place it can be.
Our glass is so very full — this community is finding its way forward in partnership, aspiration, and mutual support. 
I'm grateful for you all, and wish you the warmest of holiday seasons full of rest, connection, and peace.