Each year, the Park Parents' Association raises funds through a number of community-engagement events, and each year, the funds raised provide resources that support Park teachers in their work as they expand curriculum and explore new ways of teaching and learning. The impact is immediate, and direct — and, this year, it helped make the winter Upper Division Winter Musical production possible.
When the PA launched its annual invitation to faculty to apply for grants, Kyra Fries (Drama Department Head), Tory Lane (Director of the Library), and Jamie Gunther (Music Teacher)  put heads together on an innovative, forward-thinking proposal: how might Park faculty support students in creating and delivering multimedia content, particularly at a time when they cannot meet and perform together? How might these tools support ongoing teaching and learning even when we are able to work together in person?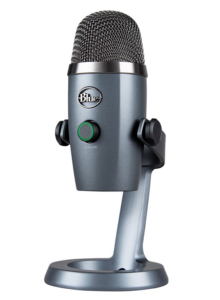 Their solution: 30 high quality microphones and headphones, enough to create two complete sets that could each support a full classroom of students. The proposal, co-authored by the three educators, extended not only to the ways in which those tools would be used, but also how the devices, co-owned by the three departments, would be organized and cared for. They noted, "It's important to underline the collaborative approach of this purchase. Co-owned across three departments, these devices would likely blossom into even more uses than we can predict at this moment!"
As these program leaders noted, several events converged to propel this grant request forward. Most immediately, the Drama Department planned to take on the challenge of creating a virtual musical. Kyra Fries said, "Students would be learning music, blocking, lines, and choreography over Zoom, and then they would head off into their own realms to do their parts." These 29 brave students would need to record their vocal tracks of their songs and videos of scenes they performed and submit these to then be mixed by a professional sound engineer and video editor into a 90-minute musical movie. These unprecedented circumstances required every student to have access to excellent technology, and the very best sound quality was essential to this project running smoothly. 
Because this grant was approved earlier this winter, Kyra was able to assign each student a microphone set to take home and use in their recording space. The device would allow their tracks to be clear, audible, and more easily mixed with other sounds and tracks. "When we first contemplated this project," Kyra says, "we were looking at the reality of the sound quality possible on a Chromebook."  
The PA Grants Committee supported the request quickly, supporting the play's timeline. Tory Lane and the Library team helped catalog the tools, creating a system that allowed them to be checked out for individual use, or for use by an entire classroom. Kyra observes that the sets are very easy to use — fifth graders can use them independently, and Lower Division students can use them with some guidance. In fact, two intrepid Grade 5 students were among the first to use the sets, creating instructional videos to guide their peers in using them.
The benefits have met and exceeded expectations. Kyra observes, "The microphones have made a huge difference in how performers sound." In addition, she notes, the tools have provided an unexpected benefit, as quiet kids who are less confident performing in public have been able to sing in their own rooms — and be heard!
The Winter Musical, "A Killer Party," was presented on March 11 and 12, and showcased student performances with extraordinary professionalism. Kyra says, "It couldn't have happened without this grant. The PA heard, and came through. I don't know what I would have done with it." 
Equally important, however, to making the production possible, is how great it made the kids feel. Kyra notes, "The kids were able to feel really good about this product — and about themselves. And the 'kids feeling awesome' factor is something that really matters!" The grant allowed students to be really excited about the production — it allowed learning to be as "student-centered" as learning can be. "And, it's a cool device kids can really geek out on — and that's fun!" she laughs. "It's great to be at a place like Park where students can learn and stretch their creative process this way."
Kyra reports that her department has been the lucky recipient of a number of PA grants, and the PA's generosity has had an immeasurable impact on the drama program. "The PA has been so supportive of my ideas, both practical and creative," she says. "Their help has allowed us to accomplish things outside the budget," she notes, pointing to a recent grant that facilitated bringing in outside specialists to teach fight choreography, and to a grant that funded purchase of a Marley Dance Floor that will support Park's ability to expand dance opportunities.
Jamie Gunther recently launched a digital music curriculum, and he can't wait to start using the tools in his own classroom. He says, "Our students are fortunate to have access to a variety of music technology from digital audio workstations (DAWs) to cloud-based recording and assessment software. From creative collaborations to self-assessment and sharing of performances, recording audio is a fundamental component of a rounded music education." 
Unfortunately, he says, the limiting factor has often been microphone quality, as the built-in microphones on Chromebooks simply do not offer the sound quality to do our student musicians justice! The Music Department sees many long term applications for these microphones including recording projects in digital music electives, audition portfolios for ensemble students, and cross-curricular projects in general music classes. 
Meanwhile, Tory Lane is excited by all the possibilities these devices will create in her arena. She observes that "effectively demonstrating one's understanding of information using digital tools is an important twenty-first century skill that we urge all of our students to develop. Key to a majority of these projects is clear audio—and it is important to learn what goes into and how to create quality sound." The Library teaches and assists with a variety of multimedia projects across the school that include students and teachers. With better equipment, voiceover narration, podcasts and interviews all get better. "Better sound equals better projects!" she exclaims. And better projects just inspire more ideas, as teachers and students begin to imagine what they too can create using these tools. The equipment will be catalogued and managed by the Library, and it will be used for years to come.
All three departments see use both immediately and in the future for this technology, no matter whether school is in person or virtual — and it's particularly exciting to imagine how ideas that arose in response to the need to function in a virtual classroom space will further inspire programmatic growth even as we return to in-person learning. Instead of causing setbacks, the experience of the 2020-21 year will make us even better.
For their part, the PA is simply excited to see all this good work come to life. In approving this grant, the PA Faculty Grant Committee said, "We all wish we could be students working with you! The PA deeply appreciates this work and your leadership behind it. Thank you, thank you, thank you!"