"We are scientists. We look for change!"

The Kindergarten Science Motto by Beth Hawkins
The end of the school year can make us adults a bit nostalgic about change and inspire us to think about how much our students have grown over the course of the year. (First day of school and last day of school photo comparisons, anyone?) But for Kindergarten students at Park, these reflections are routine because their science curriculum is anchored around the theme of change.
I spoke to Beth Hawkins, the dedicated science teacher for Kindergarten, and Grades 1 and 2 at Park, to learn more about how the concept of change shapes the science curriculum for some of our youngest learners. Here are some of the fantastic projects that show how change steers the conversation in Kindergarten science:
Hatching Monarch Butterflies: Classrooms host caterpillars, observing the larvae, chrysalis, and metamorphosis and then releasing butterflies into the wild. They also learn about what threatens monarchs and ways families can help by planting milkweed and other native plants.
Germinating Seeds: Students germinate a seed and dissect a narcissus (daffodil) bulb to look inside and make scientific observations.
Opening Geodes: Students learn about fast (like earthquakes) and slow (like mountains eroding) changes to the Earth, and they get to open geodes and learn about their connection to volcanic activity.
Hatching Chicks: In the spring, children get to incubate eggs and hatch chicks while also learning about how different crops are grown and make it from a farm to their table.
Hot Wheel Challenges: Exploring your ability to make changes and observe results is a critical component of scientific thinking and forming experiments. Beth gives students Hot Wheel tracks and a challenge: how do you get your car through the loop-de-loop? The requirement: you can only make one change to the track at a time. This experiment helps students learn firsthand that in order to identify causality rather than correlation, you need to observe results after changing a single variable. Otherwise, how do you know what caused the change?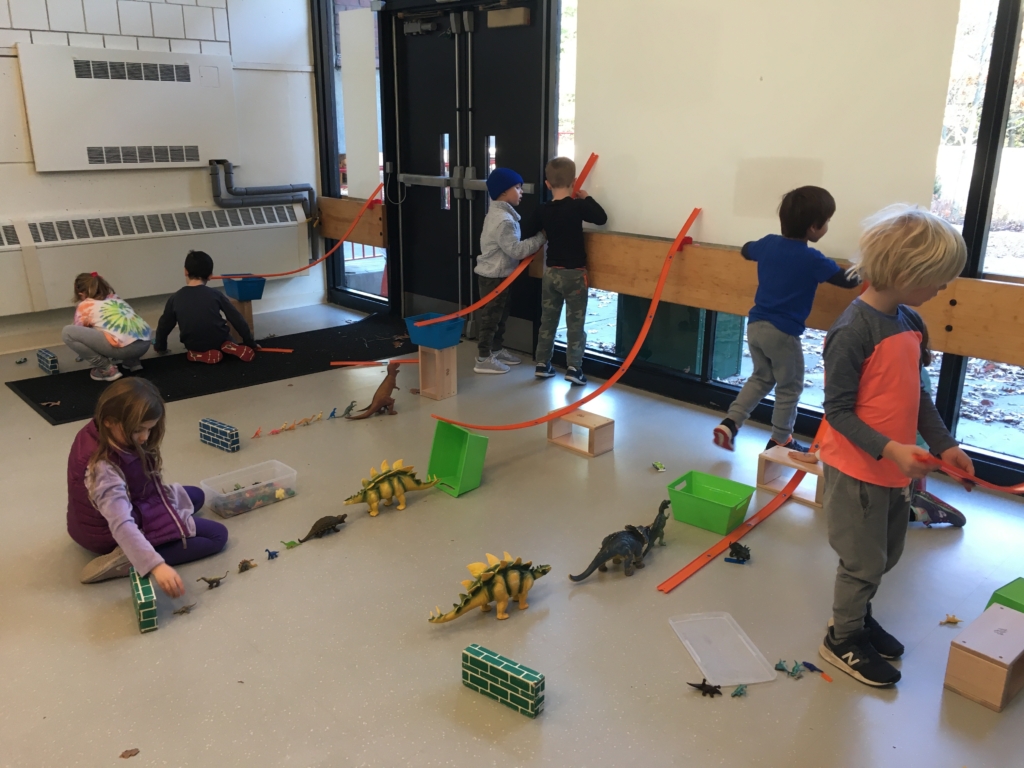 Encouraging students to have a growth mindset and embrace their capacity for learning pairs well with a year in science dedicated to observing changes in the world. For Kindergarteners at Park, these activities and units are part of a purposeful foundation in science that will be built on in the years that follow. The science team at Park meets regularly to discuss the progression of material from year to year. They work together to build a cohesive program that aligns with Next Generation Science Standards.
Students who learn about push, pull and lift in PreK are primed for the unit on force and the unit on hot wheels in Kindergarten. Discussions of fast changes to the earth, like the weather in Kindergarten, prepare students for the unit on the atmosphere in third.
Since change doesn't neatly happen just twice a week when Kindergarten students happen to have science class, Kindergarten classroom teachers host germinating seeds, monarchs, and chicks in their classrooms and incorporate the science lessons into their teaching.
As a parent whose once-Kindergarteners are now capable of doing long division and running errands, I still remember Kindergarten as a special year in terms of growth. I asked Beth what changes she observed most in her Kindergarten students between the beginning and the end of the year.
Beth said that their acquisition of language is monumental in Kindergarten. It's often joked that children that age are like sponges, and in the science classroom, there's a noticeable difference in the words they use as a community to talk about their scientific observations by the end of the year. 
Kindergarten can be a real caterpillar-to-butterflies kind of year, where literacy, confidence, and independence grow noticeably. And in their classrooms, Kindergarteners get to see the literal transformations take place.
Thank you to Beth Hawkins for speaking to me about the Kindergarten science curriculum and for all the work she and other teachers at Park do to support our next generation of scientists and critical thinkers!
"Their willingness or ability to work a little more independently with confidence about what they're doing. 'Do I have the courage to put myself out there to draw that picture or try that experiment?' By the end of the year they're more confident with themselves and not as scared of mistakes."

Beth Hawkins