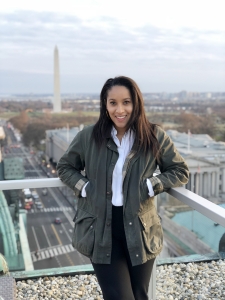 Sophia calls herself a Park lifer, being lucky to have spent ten years growing up in this community. And community means a lot to Sophia! Over her years Park, she not only developed her love of dance, but the voice of a confident and equity-minded leader, as well. Her fondest memories at Park all revolve around the warmth and unconditional acceptance she knew she had the privilege of enjoying – in the classrooms, on the playing fields, and on the stage. She remembers how hard it was to move onto her next school community at the Pomfret School, where she graduated in 2015, having learned to navigate life away from home and in the real world.
Sophia is poised for her senior year at Clark University in Worcester, where she is a political science major and a geography minor. At Clark, Sophia has continued to nurture her love of the arts, especially in theatre and dance with Shenanigans Improv and Sketch Comedy, and The Clark University Dance Society, as well as delving into a new passion: the law. Sophia serves as an executive officer of the Epstein Pre-Law Society and on the university's Judiciary Board. Most recently, Sophia was excited to spend the spring semester at American University in Washington, DC, as an intern in the U.S. Department of Education. "This was an incredible place to be introduced to the realities of working in American government and politics," she remarks. Sophia's greatest achievement during her internship was managing the Asia portfolio and helping approve federal grants totaling over $7 million. Though Sophia is not exactly sure if law school is in her future, she is certain she wants to serve and wants to do real work for the betterment of society. She thanks Park for planting the seed of wanting to make things better!
Sophia Clarke will deliver the graduation address to the Class of 2018 and their guests on Friday, June 15 at 10am.